Swirltex builds custom water treatment systems for a wide range of applications. Swirltex unique patent membrane works by separating and filtering liquids according to their buoyancy, which allows for greater production with less pollution of the water. The ability to manipulate the buoyancy of different contaminants within the liquid stream allows the Swirltex system to treat water that would be considered unusable. It also utilizes a fraction of the energy of conventional water treatment methods.

The key to the Swirltex system is the distinctive flow pattern inside the tubular membrane. It channels oil, air and other buoyant materials away from the membrane allowing the water to flow through the membrane resulting in clean, hygienic water.
Swirltex membrane technology is ideal for the following applications:
Pharmaceutical Applications
How Does It Work?
Swirltex supplies unique membrane systems for wastewater treatment applications. Our membranes provide an innovative solution for turning waste into a resource. Swirltex membranes have a higher permeability that allows for more water flow in a smaller surface area and the unique flow pattern keeps any contaminants off the surface of the membrane.
What are the Benefits?
We make safe water an economic reality. Our robust membrane systems are a convenient, cost-effective and energy-efficient option for wastewater treatment. The Swirltex external membrane allows for a prompt and straightforward installation or retrofit of current water treatment systems. We can even assist with water reclamation or provision to the remote camp industry. Our technology also boasts a longer operational life and increased energy efficiency.
SLU: The Swirltex Lagoon Unit
Turning wastewater into a resource
The Swirltex Lagoon Unit (SLU) is a unique portable system that provides membrane filtration while hyper oxidizing wastewater. The SLU system not only increases the capacity of a lagoon, it also provides effluent that can be reused for numerous useful agricultural and industrial applications. The SLU is a perfect solution for solving wastewater lagoon issues, while creating a practical resource from a waste product.
The main benefits of the Swirltex Lagoon Unit (SLU):
The system can treat high strength waste.
It's a portable system that can be transported to remote communities.
The SLU creates high-quality effluent.
It maintains a small environmental footprint.
The SLU aerates the lagoon increases its capacity.
Consulting Services & Case Studies
Need to bring some attention to your wastewater treatment project?
The combination of population growth and increasingly stringent water quality standards has prompted the need for improved wastewater treatment. Swirltex provides municipalities and industries upgrade and expansion options to solve their treatment challenges. Peter Christou has over 15 years of experience with water utilization and wastewater management. He has been recognized as a technical expert in the assessment, optimization and process design of wastewater treatment facilities. Peter's knowledge and understanding of the wastewater industry will help our clients meet regulatory requirements and develop cost-effective, long-term, sustainable water solutions.
Swirltex offers advisory and assessment services for:
• Municipal/Industrial Lagoon Expansion and Upgrades
• Wastewater Reuse Strategies
• Treatment System Optimization
• Membrane Assessment and Upgrades
• Water resource Conservation and Optimization
Swirltex believes that clean water requires far more public engagement and discourse. Our company maintains a presence on social media and will use our following to educate the public about issues of underfunding for this resource around the world until it gets the attention and help it deserves.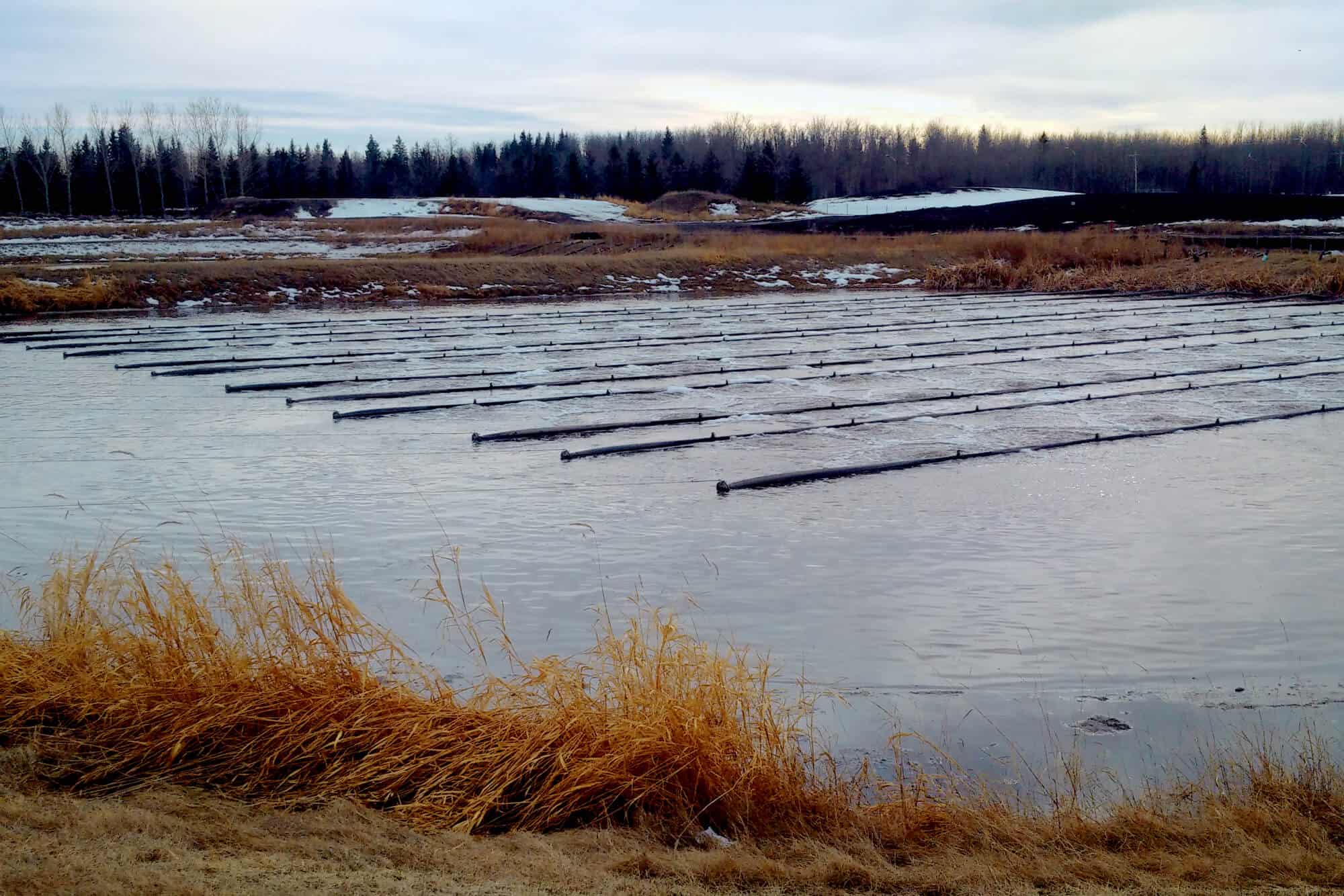 The Lagoon Water Reuse Project
Lagoons all over the world are in need of an upgrade to meet environmental discharge standards. The Swirltex Lagoon Unit (SLU) is designed especially for wastewater lagoon systems, with the intent to increase the lagoon's capacity and provide treated water for local industries and agriculture. The SLU system ensures that communities can meet future environmental standards while creating economic opportunities through the reuse of wastewater.
The SLU system turns a waste product into a valuable economic resource for the community that previously saw no value. When communities have access to inexpensive water it creates economic opportunities for businesses that use a large amount of water like, recycling plants, lumber yards, vehicle washing and any number of agricultural and industrial applications. Being able to bring jobs to rural communities is part of the value-added bonus of using an SLU system.
The unique ability of the SLU system, to increase the treatment capacity of the wastewater lagoon, while providing a reuse water for local economic development. Our most successful projects have been where we challenged the community to find different uses for the reuse water. Entrepreneurs from the communities have opened car washes, greenhouses and invested in their business so they could use reuse water. This sustainable economic model is a great way to improve environmental standards while providing economic opportunities in rural areas. This is a prime example of how a green technology can be used to help the environment and increase economic development in rural communities.
First Nation Communities
Swirltex has worked with First Nation communities to improve their wastewater treatment infrastructure and environmental standards. We also assist in establishing economic development strategies in collaboration with First Nations bands and local industries to maximize the benefit from the upgrade of water facilities.
Swirltex specializes in conducting the following services for First Nation communities:
• Lagoon Discharges
• Treatment System Training
• Treatment System Assessment
• Water reuse policies and strategies
• Environmental Economic Development
• Lagoon Evaluations
About Us: The Swirltex Story
How many people can say they have revolutionized an industry from their garage?
How many people can say they have revolutionized the wastewater treatment industry from an invention they devised in their garage? That's exactly what the founder and President of Swirltex, Peter Christou, has done! He developed a novel membrane technology right out of his home in Edmonton, Alberta.
The membrane system he created was originally designed to separate water and oil, but Peter also recognized it could solve many of the performance problems he observed in wastewater treatment facilities. The existing membrane solutions were expensive and high maintenance since they need to be regularly cleaned and had a short lifespan. Swirltex technology allows wastewater treatment plants to increase their capacity without substantial infrastructure upgrades. There is strong environmental pressure on industry to reduce the amount of fresh water they use and rely more on treated water. Peter started Swirltex in 2014 to commercialize this new membrane technology. He was able to quickly convince Parkland Country to install the membrane module in their lagoon wastewater treatment facility. Many lagoons and municipal wastewater plants need to upgrade their infrastructure or find a way to increase their capacity of treating wastewater. Swriltex technology allows them to do both.
Swirltex now plans to complete a full-scale commercial trial of its system at a local municipal wastewater treatment plant in the municipality of Drayton Valley. The company will also continue development and research into its applications for separating water from oil in the the oil and gas industry.
—Peter Christou, Founder & Owner

Contact Us
Swirltex is the answer to all of your waste water treatment issues. Contact us if you have questions about our technology or if you are interested in consulting with us to use our services.
Investors
Swirltex is actively seeking partners to expand its product offerings and reach into new markets. We want investors who appreciate our passion, believe in our technology and understand our business model. If you are interested in receiving an investors package or having a conversation about Swirltex technology, feel free to contact us.